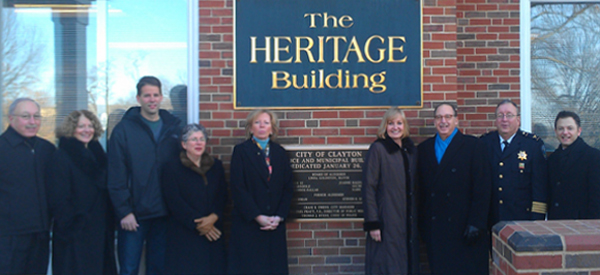 The City of Clayton, Missouri celebrated the completion of their new Police & Municipal Building on January 26, 2013. Paul J. Michell of Wilson Estes Police Architects was present as the police department, city leadership and residents of Clayton dedicated the newly renovated building, which will serve the City for decades to come. The six-story facility at 10 South Brentwood Boulevard was built in 1950 and modeled after the Governor's Palace in Williamsburg, Virginia.  The City of Clayton acquired the property after it sat vacant for several years with the goal of saving a cherished building in historic downtown Clayton and with a vision of maintaining the downtown presence of the police department, whose current facility had run out of space, was inefficient and had numerous environmental and maintenance issues. The police department, municipal court and city information technology department occupies three floors of the new facility with remaining space on the upper floors of the building available for compatible law enforcement and governmental tenants.
The City of Clayton is committed to environmental responsibility and mandated that the project be designed with the goal of achieving LEED Silver Certification. Numerous sustainable strategies were employed including energy efficiency, reduced water usage, promotion of alternative transportation methods, utilization of low VOC construction materials, regionally sourced construction materials, use of recycled products and comprehensive construction waste recycling. The project also boasts the largest non-utility solar panel array in the State of Missouri which was installed by Kansas City, Missouri based Brightergy.
The police and court portions of the project were planned and designed by Wilson Estes Police Architects and the project completed in association with The Lawrence Group Architects of Saint Louis. Paric Corporation served as the project's Construction Manager.
Please read the City's official press release for more information.