Construction on the Marion Police Headquarters designed by Wilson Estes Police Architects is progressing on schedule thanks to a mild late fall and early winter season. Currently, the 42,000 square foot police facility project has progressed to a point where all basement foundation walls and the majority of the steel superstructure are complete. Architectural precast concrete wall panels are scheduled for delivery and installation in the near future, and should begin to provide the community with a better glimpse into the final form of the new facility.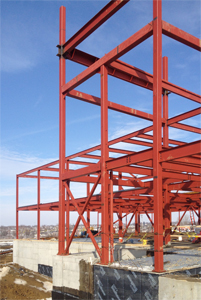 Matt Veasman, the project manager for Wilson Estes, is providing routine construction observation for the project and was on site recently to ascertain the project's progress. Construction phase observation is a critical aspect of architectural services and involves routine site visits and progress meetings where architects work closely with Owner and Contractor representatives to ensure conformance with the drawings and specifications, to answer questions and to offer any clarifications necessary as the Contractor continues construction. The Owner, design and construction team representatives are working collaboratively and on a daily basis with the goal of a completed project that will meet the long-term needs of the City of Marion and the Police Department.
The state-of-the-art Marion Police Headquarters project will serve the needs of the growing community for decades to come and accommodates all law enforcement operations including emergency communications and training. The project is being completed under a lease-purchase agreement, with Miron Construction of Cedar Rapids, Iowa serving as the Contractor. The $12 million facility is anticipated to be complete in late 2013.