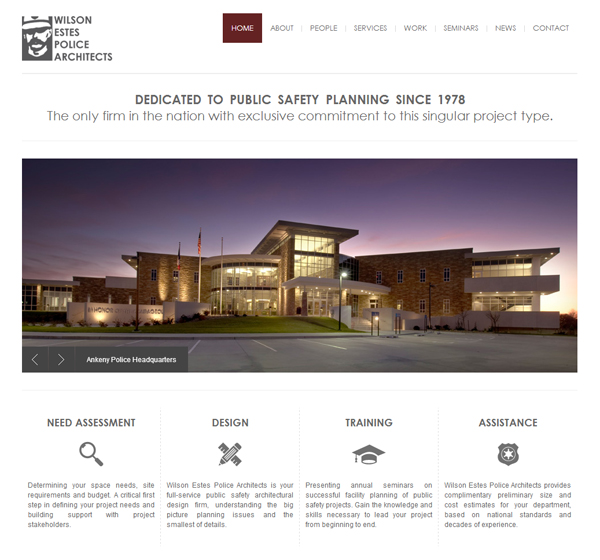 Wilson Estes Police Architects has recently launched a newly designed website at www.policearchitects.com. The launch of the new website, which offers quick and easy access to essential information on Wilson Estes, is part of our ongoing efforts to enhance the delivery of relevant information to the public safety community regarding successful facility planning concepts and how our depth of experience and services can assist agencies in realizing their needs for new or improved facilities. The website's new design is clean, concise and easy to navigate. With more research and communication taking place online, we understood that it was time to take an objective look at our web presence. While the information presented on the old website was relevant, the design was quickly becoming out-of-date. It became clear that a new website was necessary that reflected our commitment to functional, high-quality design.
The new site and underlying framework upon which it is built affords opportunities not possible within the constraints of the old site. New features include a news section where we can share current company and project information in a timely manner. An expanded services section is also included that reinforces that Wilson Estes is a full-service public safety architectural firm, not merely a public safety design consultant. Wilson Estes has the capabilities to take your project from preliminary planning through construction with the benefit of public safety experience throughout. The redesigned website is also mobile-friendly. Noticing a trend that visitors to our website use a variety of different devices, we became committed that the new design should be responsive to each user's viewing experience, whether it is via computer, tablet or phone.
Founded in 1978, Wilson Estes Police Architects is a full-service architectural firm whose exclusive focus and expertise is the need assessment, programming and design of public safety facilities and related projects on a nationwide basis. Please visit the new site to learn more.